This was the second year for the Coat of Arms Design Contest at the Ada 4th of July Celebration and Craft Fair. It was a great success with 9 wonderful entries.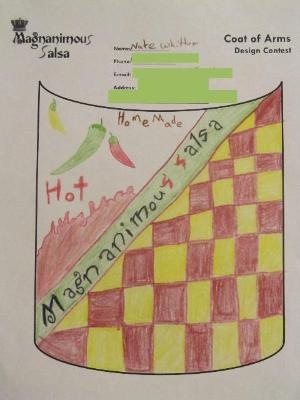 There were several designs that we really enjoyed and it was very tough to decide our winner. We are proud to announce that our winner is Nate Wittum from Alto who took more than a half hour to create his incredible design. The bright colors of the red and yellow "checky" right field definitely caught our eye. The green "bend sinister" emblazoned with our salsa name, especially the pepper Ss complete with stems, was a royal touch. And the "canting arms" of peppers, flames, and descriptive words dear to our hearts in the left field were the topper. Thanks, Nate, for sharing time with us and thanks, Mom and Dad, for your patience with his design. We hope you enjoy your Trinity Salsa Gift Pack prize.

A couple more designs that we liked were:
Hope Odbier's "cross heraldic" bands with strings of peppers separated quadrants that hosted some of our favorite stuff from onions, peppers, and tomatoes to swords, spears, and the crown. Nicely done, Hope.
Jackson (?)'s design on a bright orange round shield with a "cross heraldic" design flanked by peppers with stems of green fire. A very HOT idea!

Thanks to everyone who participated! And special thanks to Tom Olson for helping out with sales and promoting the contest on the 4th.